Do you want to link your site to "Learn4Good Larnaca"!
Site content: Regular Greek Language Courses, Private Tuition, Summer Courses, Professional Training, Translation Services, Greek Language Tuition for Children.
Use the images below to link to our site, other sizes are available upon request.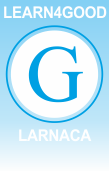 Please inform us when you link to us, so we can link back to you!